PORTO HELI
Discover an ideal location for mooring your boat and plan your vacation under peace of mind and safety
Discover Portoheli starting from the modern and environmentally friendly Marina Porto Heli.
Marina Porto Heli is located in the heart of the town of Portoheli. The sheltered natural bay of Porto Heli is an excellent natural harbor, as it offers unique ease of access for boats, and ensures with the surrounding hills, their safe mooring.
The facility was built with modern specifications, both for port works and for building constructions. The electricity, water, wi-fi and CCTV networks operate digitally, providing ultimate quality services to users. The port facilities of the marina accommodate up to 149 vessels, both sailing and motor, with a maximum length of 55 meters. The experienced and friendly staff of the marina is always at your disposal, to fulfill your requests.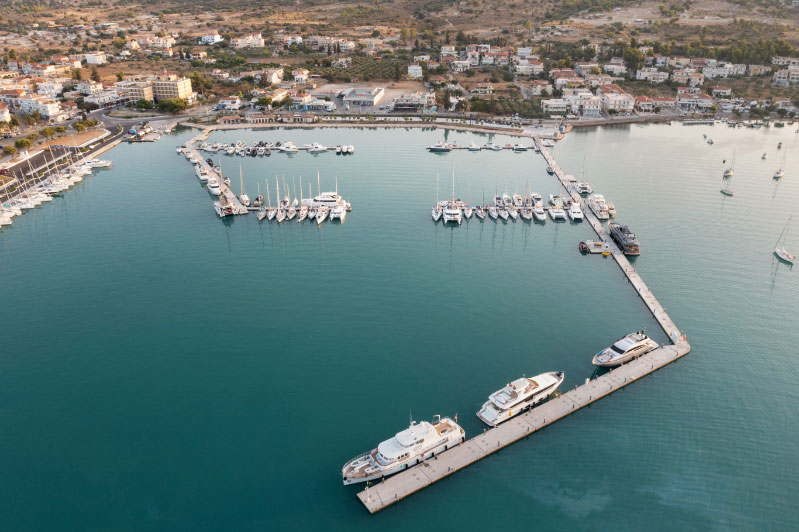 Start your vacation using the newest marina in Greece as your base
Geographically, Marina Porto Heli is in an ideal location that allows you to explore the wider area, as well as nearby destinations, with ease, and enjoy peaceful vacation moments.
Visit the turquoise beaches, the picturesque villages, and taste the local cuisine, having as your base a modern marina, with innovative facilities and services that cover your every need.
Enjoy the private and tranquil environment of the innovative Marina Porto Heli
Porto Heli is built on the shores of the Argolic Gulf, at eastern Peloponnese. You can discover a wide variety of golden beaches with sky blue waters in the area, surrounded by vivid Mediterranean nature. Some of the most alluring Porto Heli beaches you can visit are Korakia, Kosta, and Hinitsa.
Wander along the pebble beach of Korakia
Korakia boasts a double coast covered with thick, sparkling shells. The dense pine forest around the beach creates a rejuvenating ambience that will make you feel relaxed and well-rested. Walk over to Korakia's little island and explore the nearby Byzantine shipwreck.
Enjoy some fun family time at Kosta
Famous for its shallow waters and magnificent sandy beach, Kosta is the perfect place to have some exciting, quality time with your kids. Enjoy the teal waters and sun-kissed coast, or get an adrenaline rush with various water sports available on the spot. The beach is situated in the charming tiny village of Kosta, which in Latin means "by the sea", and is currently the quiet hometown of just 83 residents.
Swim in the crystal-clear waters of Hinitsa
The stunning sandy beach of Hinista is located at the front part of the Argolic Gulf, between Kosta and Porto Heli. It's a "Blue Flag" award-winning beach, validating the pure quality of its waters. Unwind in the organised parasols or get some action at the tennis court while enjoying the beautiful view of the homonymous little island