An idyllic seaside village named Tolo (Greece) is located one hour away from Marina Porto Heli and attracts thousands of tourists every year. It is known for its wonderful one-kilometer-long beach, for the three uninhabited islands easily accessible by boat, and for the fresh fish and seafood served at the local taverns.
One of the reasons to visit Tolo in Greece is its attractions. You can combine laid-back vacations with visits to nearby places of interest for a unique experience of exploration.
Top attractions in Tolo, Greece
The top attractions in Tolo include picturesque churches, beaches, archaeological sites, and 3 wonderful uninhabited islands to discover. All are within a short distance, providing the opportunity to visit them at any time of the day.
Agia Kyriaki of Tolo in Greece
One of the most impressive sights in Tolo (Greece) is the church of Agia Kyriaki. According to the official website tolo.gr, this small church is an ideal place to visit for its view, its unique aesthetics, but also to attend or organize religious ceremonies, such as weddings and christenings. The unique color palette of the church, in bright blue and white, radiates romance and the Greek aura with the amazing view of the Argolic gulf.
Acropolis of ancient Asini
The acropolis of ancient Asini is one of the many castles in Greece that were built and inhabited in antiquity (300 BC). It was mentioned by Homer in the Iliad and it was used until World War II by the Italian army. The Kastraki peninsula and the archaeological site of Asini are just 800m away from the beach of Tolo.
Daskaleio – Little church of Zoodochou Pigi
Daskaleio is one of the 3 islands located a short distance from Tolo and is easily accessible by boat. This islet is home to a 17th-century church, Zoodocho Pigi Daskaleiou, where, according to local history, a Greek school was secretly operating during the Turkish occupation. The history and natural beauty of this small island make it one of the most beautiful attractions in Tolo.
Koronisi
Koronisi is the smallest of the three islets of Tolo and has a mini church as well, dedicated to the Holy Apostles, which was built in the first half of the 19th century. You can visit it by boat, canoe, or SUP board and it is incredibly close to the beach. The lighting of the temple creates a wonderful atmosphere in the bay of Tolo at night, that you don't want to miss.
Romvi
Romvi Argolidas is the largest of the three islands of Tolo and it is also at a breathing distance from the port of the village. The remains of a Venetian fortress, dating from the 17th century, are still preserved on it. This islet also has sandy beaches on its southern side, ideal for swimming.
Agia Moni (Aria) Nafplio
Aria Nafpliou is a village located 10 kilometers northwest of Tolo. There lies Agia Moni Nafpliou, a 12th-century (1.144 AD) monastery, dedicated to Zoodochos Pigi. It is a women's sanctuary and a masterpiece of Byzantine architecture with its overall atmosphere suitable for peacefulness and relaxation.
Beach of Tolo, Greece
This beach is Tolo's most popular attraction. It is one kilometer long and its waters are shallow and calm.The entire village is built along this beautiful and family-friendly beach. There you will find beach bars, cafes, and taverns with fresh fish and local seafood. The residents are polite and willing to help you in whatever you need.
Archaeological sites & monuments near Tolo, Greece
During the mooring of your boat in Porto Heli, spend a few days in Tolo and its attractions. The following suggestions for the nearby archaeological sites will provide you with a unique experience combining a great journey in Greek history and the beautiful Greek landscape.
Epidaurus
Just 30 kilometers east of Tolo (half an hour's drive) is the stunning archaeological site of ancient Epidaurus, and a further 12 kilometers away is Old Epidaurus, a village with beautiful beaches and fish taverns. Don't miss the chance to visit the Little Theater of Epidaurus and the Sunken City as well. The wider area is also worth visiting, as it is suitable for hiking and snorkeling.
Mycenae
At a distance of half an hour north of Tolo lies the archaeological site of Mycenae. It dates from the 2nd millennium BC and the period from 1600 BC until 1100 BC is widely known as "Mycenaean", because of its extraordinary civilization development. Among other things, you will admire the Gate of Lions, the vaulted tomb of Atreus, the Cyclopean Walls, and the Underground Tank of Mycenae.
Nemea
Less than an hour away from Tolo you can find Nemea, a region famous since ancient times for its wine (this is where the Agiorgitiko PDO variety comes from). If you find yourself in the area of Nemea, don't let the chance of visiting the archaeological site and the Archaeological Museum slip away. Also, try a hiking trip to Aidonia, a magical area with a waterfall and rich vegetation.
Ancient Tiryns
There are many archaeological sites in the wider area of Tolo, and Ancient Tiryns, a Mycenaean fortress just 20 minutes away, is now included in your long list. Tiryns has been inhabited since the Neolithic era, experiencing its greatest growth during 1400-1150 BC. Unfortunately, after 1150 BC it gradually declined completely.
Palamidi Fortress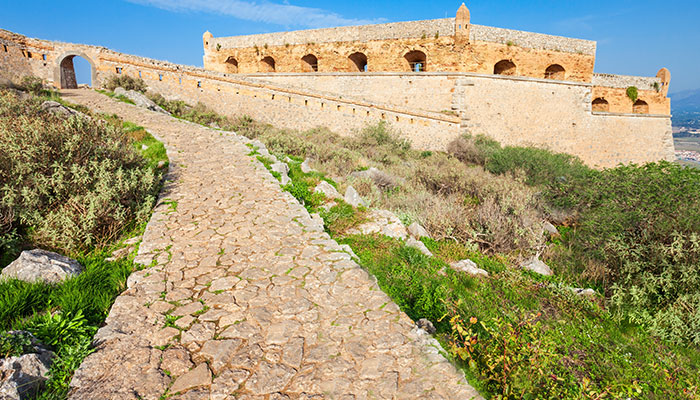 Last but not least, we recommend the two emblematic sights of the city of Nafplio. A 20-minute drive away from Tolo is the 17th-century Palamidi Fortress, built by the Venetians. In Palamidi, Theodoros Kolokotronis was imprisoned for 11 months and according to the legend, his horse broke the 1000th step of the castle and left it with its famous 999 steps (in fact there are only 857).
Bourtzi
At the same distance, in the harbor of Nafplio, one can also admire Bourtzi, an island fortress built by the Venetians in the 15th century AD. The fortress is a unique attraction, as it follows the shape of the island and is made of the island's own stones. Over the years it has been used as a castle, as hangmans' accommodation, and also as a luxury hotel that hosted celebrities until 1970.
Interested in more information about moorings at Marina Porto Heli, our services and facilities?
---
Porto Heli Marina is an innovative and modern choice for mooring in a strategic location in Greece, which gives you the opportunity to visit places of cultural interest and natural beauty. Find us on Facebook, Instagram and  Linkedin and discover more related topics on our blog.